札幌駅北口近くで、幼稚園年少から英語を学ぶプリスクール
UNDERDOGS

2017.11.10
Underdogs 3rd Birthday
 Tomorrow is Underdogs 3rd birthday. I will never forget the day that 🐶UD was born! As I have said many times before, my goal was not to be an owner, just a teacher. The decision to make Underdogs was very hard.
     Now, it has been 3 years. It hasn't been easy but it has been very fulfilling. My job is fun, my students are having fun. And,I hope, the parents don't have much stress…
     Polly was all dressed up this morning!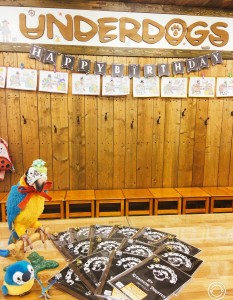 This year, we decided to give notebook to the kids. The afternoon kids and the Kinder kids have been doing great homework and we thought they would like a special notebook.
     Thank you kids for working so hard.
     Thank you parents for supporting your kids.
     Sheldon Siemens