札幌駅北口近くで、幼稚園年少から英語を学ぶプリスクール
UNDERDOGS

2015.12.06
Santa Letters
Every Christmas I pretend to be Santa and write letters to the kids. I also pretend to be Black Santa (a Japanese tradition, not Canadian or American) and write a "warning" letter to each child.
Well, it's Sunday night so I'm writing letters. I was writing some warning letters when I started thinking about what Black Santa would warn the adults about. I thought of one thing right away.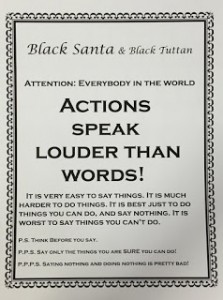 This is what I think Black Santa should write to all the adults in this world, INCLUDING ME!
Ok, I know I'm sounding a little bit "black"…
"Black" makes the "Red" brighter!!