2016.07.18
Rock You Like A Hurricane!
I'm sorry I haven't blogged for such a long time. For me, blogging is second to working in Kinder.
I had been very worried about this year's Sports Day, until last week. The kids were practicing very hard, no doubt about it. But, I was guilty of comparing this year's Kinder to last year's Kinder.  This year there are only 5 sheepdogs (nen-cho), last year there were 9. It was unfair to compare.
Last night, I watched last year's Sports Day videos. It was then I realized that this year's Kinder has done just as good, if not better, than last year! I was surprised, maybe even shocked. I was only seeing what is in front of me. I guess I forgot about last year.
Anyway, my leaders… They did their best today. That's all I can hope for. I think they can feel very satisfied about their last Sports Day. The leaders have had a hard year because of the balance of  ages. Today, they made me proud!
Thanks guys!!!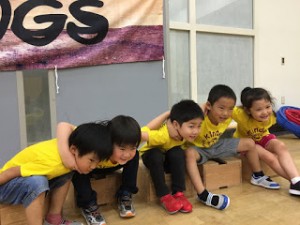 The Poodles and Chihuahuas (nen-chu & nen-sho), showed they have a lot of passion and teamwork abilities! It was just two months ago when some of them were still crying in the mornings!
It took a little bit longer to make the team this year but, I think today the kids showed you that they have become a team!
Also, does anybody know this band? They were REALLY,  REALLY cool 25-30 years ago!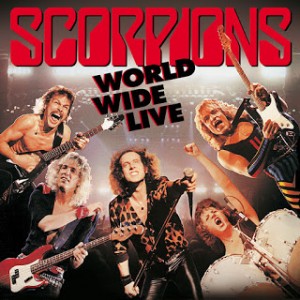 Ok, I know it doesn't matter…
About today's Japanese and Canadian national anthems, I actually love the Olympics and have always LOVED the medal ceremonies. It doesn't matter which country wins, but when I hear the national anthems I get teary-eyed… And, I just wanted to make the kids feel like they were big kids. If they see the Olympic medal ceremonies, maybe they can remember today!
Last, but not least, thanks to my staff!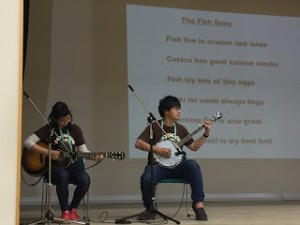 Thanks to Takumu, Miki (her first L-Plaza experience) and Natsumi (sorry, no pic). They worked hard. Again, Makiko and I are so happy to have this support staff helping us.
I hope you all enjoyed today. I'm pretty sure you could see and feel that your kids tried their best, and they performed at a high level.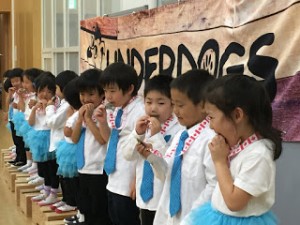 P.S. I actually think it's kind of stupid when Olympic athletes bite the medals…