2015.12.16
Pictures
My blogs don't have enough pictures! That's what Makiko thinks…
So! I'm trying new things!
To start off with, I LOVE mikans! Makiko too. A few days ago we got some mikans (Christmas Oranges or Tangerines in English) from a Kinder mom. We were both really excited! (don't worry, nobody has to give us anything!)
That's where the problem started… I like to save yummy things. Makiko likes to eat yummy things really fast. She ate 5, I ate 1. The last mikan was a battle! I wanted to eat it after lunch. She wanted to share. BIG FIGHT!
Math is very important! I don't like it, but I understand it is useful. 5 vs. 1. First picture: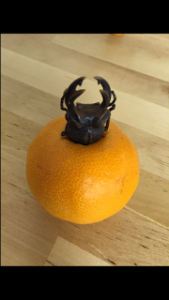 I could eat the last mikan!!!
Next, today is Wednesday: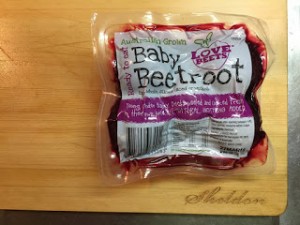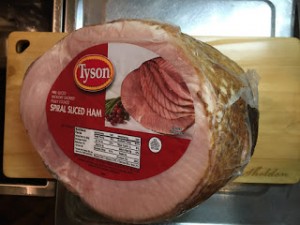 I know, it's from Costco but, the kids will love it! I hope… MERRY CHRISTMAS! (lunch)
Red, white and green are the Christmas colors. I'm hoping to serve the kids all three.
Continuing, it's Wednesday…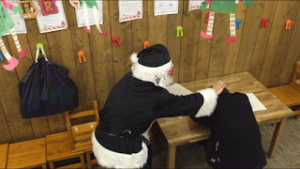 Sheldon is sleeping, Black Santa is ????
Makiko is sleeping with Tuttan. Why?     Black Santa is ??? Holding her shoe? Why? too many "whys"!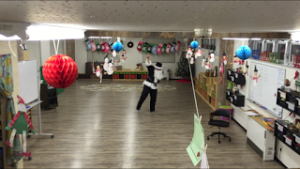 Black Santa is pointing at the ceiling! Decorations??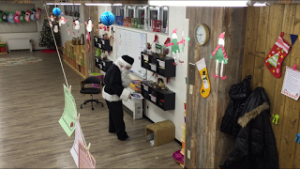 Black Santa is holding a "dogu-bako".  What number??
See? I can use pictures too! Please read my blog!!!!
It is a great way for parents to study English!
Actually, I just want to beat Makiko's blogging.