札幌駅北口近くで、幼稚園年少から英語を学ぶプリスクール
UNDERDOGS

2017.05.10
Parent's Homework Competition ! ! ! ! !
Wednesdays are VERY important for Underdogs.
Today, I woke up at 4:30 A.M. and organized a lot of stuff for this year's Kinder.
Then, around 4:30 in the afternoon I got bored…
I decided to go through my old things from Canada and discovered one (I only have two) of my pictures proving I had hair!
So, here's your homework: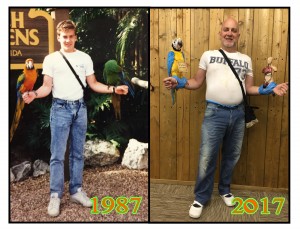 Find the differences!
Not including the background, how many differences can you find?
Please, write them on a paper and bring them to Makiko (who finally believes I had hair!)
The champion will receive some kind of edible treat!
P.S. This homework is for afternoon moms too!