2016.08.09
Dreams Come True!
After 15 long years, one of my dreams has come true!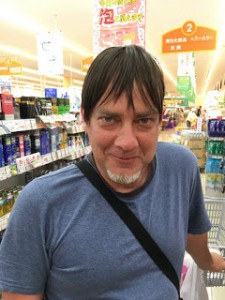 Ok, that's just a joke. I really don't care about having almost no hair.
The dream I'm talking about is going camping with my Kinder Kids. I guess my dream didn't completely come true because not all of the kids could come, but 8 out of 17 did come, and I was really happy about that.
First, why Maruseppu, right? It's so far from Sapporo and hard to get to. BUT, it's by far the best campground I've been to in Hokkaido. It has something for everyone.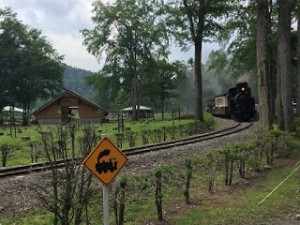 Cool, right? The oldest running SL in Japan!!!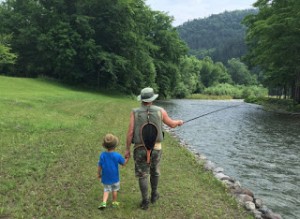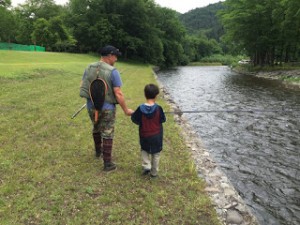 The river has lots of fish! Kids of any age can catch fish quite easily. And, for me, I love to go to sleep with the sound of a running river…
The kids and their parents had a great time catching fish.
The weather forecast wasn't very good for that weekend, and it actually helped us get a huge camping site right beside the river. Thanks to Y-kun's dad, our site looked like a camping CM!
My two favorite things about camping: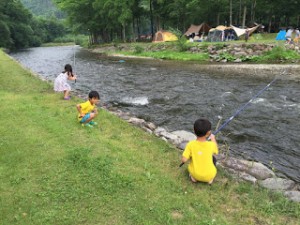 Fishing!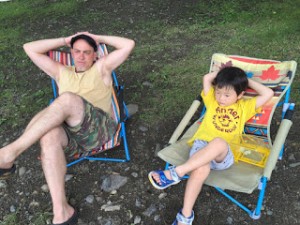 Relaxing!!
Thanks to all the parents for trying so hard to go to Maruseppu. The weather looked bad, and getting bungalows took a lot of effort. I hope that everyone could enjoy it enough to want to try again next year.
P.S. Only one problem… I didn't catch the biggest fish.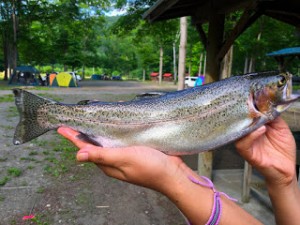 Maki caught the biggest fish… It matched her bracelet perfectly, so she was pretty happy!